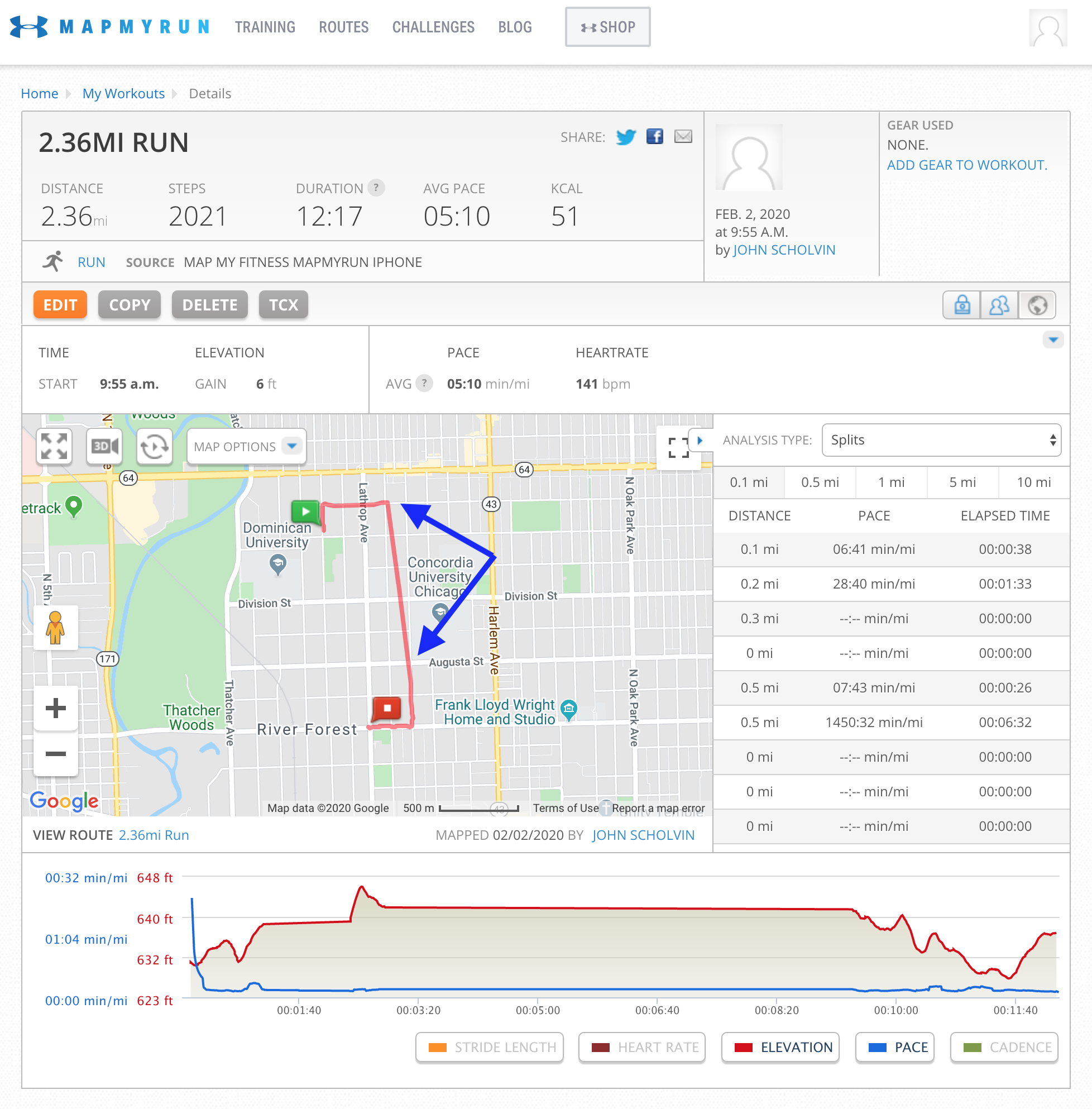 I'm breaking up with MapMyRun today. It's over. The thrill is gone. There are a lot of other fish in the ocean, all of which can do the most basic thing that a run tracking app should do, which is, you know, to accurately track your fucking run.
The failures in the report above are myriad, but for sure my favorite is that part I highlighted with the blue arrows. Starting at the corner of Lemoyne and Jackson, I ran about five blocks straight through houses, apparently at infinite velocity. I should probably leave a note for the folks whose homes were vaporized. I don't know who's insurance is liable here. I also remember that half-mile that took me over 24 hours fondly.
It's a shame, really. I've been using this app since 2013, and I have almost 700 workouts logged in it. Runs, bike rides, hikes, gym workouts. It has all the secondary features I want, but since the primary one stopped being reliable, it's useless. Candy Crush could track my runs exactly this well. Probaably not coincidentally, the quality of the app started going downhill right about when Under Armour acquired them.
I had a feeling it wasn't working right again today, so I stopped at the corner of Chicago and Lathrop to check it. Yep. Borked. Rather than trying to fix it, it was in that moment I decided to dump them. Decisions come quickly when your heart is beating 160 times per minute. I tried to start Strava on my watch, but it told me I had to log into it on my phone first, and I didn't have it with me. So for the rest of the run I fell back to the Apple Fitness app, my least favorite of them all. But give them this: it works. I'll probably go with Strava once I get the login thing sorted, unless I find something better.
My technical challenges for the day weren't over. A block or two later, I heard a descending "be-bip" tone in my left ear, and that AirPod quit playing. I think now I have to resync them and have the case handy, so rather than go with just one ear working, I pocketed them for the rest of the run. Goodbye, Tedeschi Trucks Band. I'll re-pair them tomorrow morning at the airport; clearly today is a day to turn everything off and sit in a dark room.
Ironically, all of this was during a (literal) test run for some other running tech, a pair of very dorky looking new shoes, the Bondi from Hoka One One. I wanted to try a really cushy, floofy-soled shoe to see if it would give my achilles some relief. (So far, so good, but I won't really know until tomorrow morning.) I've been running with minimalist shoes for a couple of years, and these are actually marketed as "maximalist" on their web site. I'm not one to make incremental changes. They felt OK, though I couldn't shake the sensation I had something like platform snowshoes on my feet. We'll see. Fleet Feet gives me 60 days to return them, almost exactly how much time I have before Ragnar.